The MJTFernandez is a copy trading investment at eToro where people from all walks of life (including you) can invest in the international stock market to earn better returns than banks and mutual funds.
It is essentially saying to a person you know who is good in stock market investing – "I don't know how to invest in stocks or I don't have time to monitor. Can I copy the stocks you buy instead?"
For a simple explanation on how to invest in the mjtfernandez copy trading investment visit mjtfernandez.com/start. Or if you wish to know more about the investment read below.
(Suggested Starting Amount to Copy: $300 USD. You can also do $200 USD.)
You do not need to be an expert in the stock market and you do not need to keep monitoring the stock market to invest in the stock market.

Why makes MJTF Copy Trading Investment a good investment option?
Imagine buying a house for 300 and that house gives a regular rentals. But the house goes down in value every year as the house becomes older. But if you invest in dividend stocks your 300 goes up every year and you still get regular rental payouts in the form of dividends. Also copy trading investments do not charge fund management fees unlike most funds.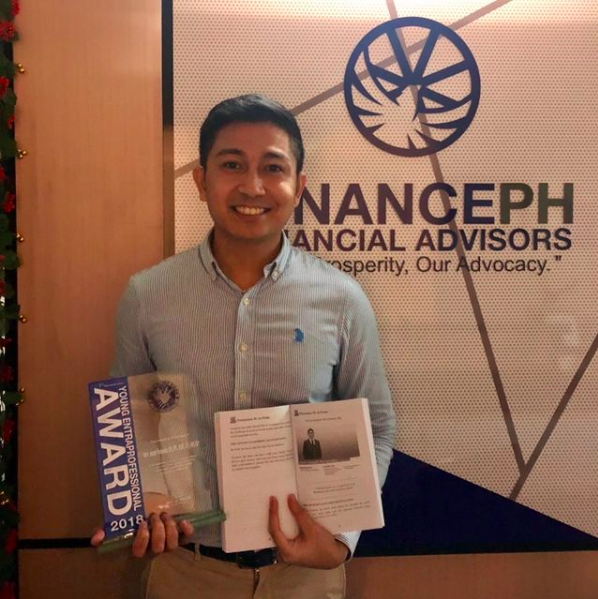 EARN HIGHER RETURNS THAN BANKS AND MUTUAL FUNDS WITH THE MARK FERNANDEZ COPY TRADING INVESTMENT:
What is the Mark Fernandez Copy Trading Investment?
It is a copy trading investment through the eToro platform.
I do not have time to keep monitoring the stock market. Is this for me?
YES, this investment does not require you to monitor the stock market because the person you are copying will be the one to do it for you. You may want to check your account from time to time to see how much dividends you earned, to see how much the investment has increased or add up more cash to copy (optional to add up).
What is copy trading?
Copy trading is a means for investors in the stock market to copy whatever stocks the person they are copying is buying and selling. The advantage is that you do not need to keep monitoring your stocks because you simply copy whatever stocks the person (you are copying) is buying and selling. Watch video below for more details of copy trading:
What do investors get when investing in the MJTFernandez Copy Trading Investment?
By investing in the Mark Fernandez you will purchase the same assets that he will be purchasing which are mostly dividend stocks. So expect to receive:
Regular quarterly cash dividends
Price appreciation when the stock prices increase this is represented by the increase in profits in the eToro website as seen below: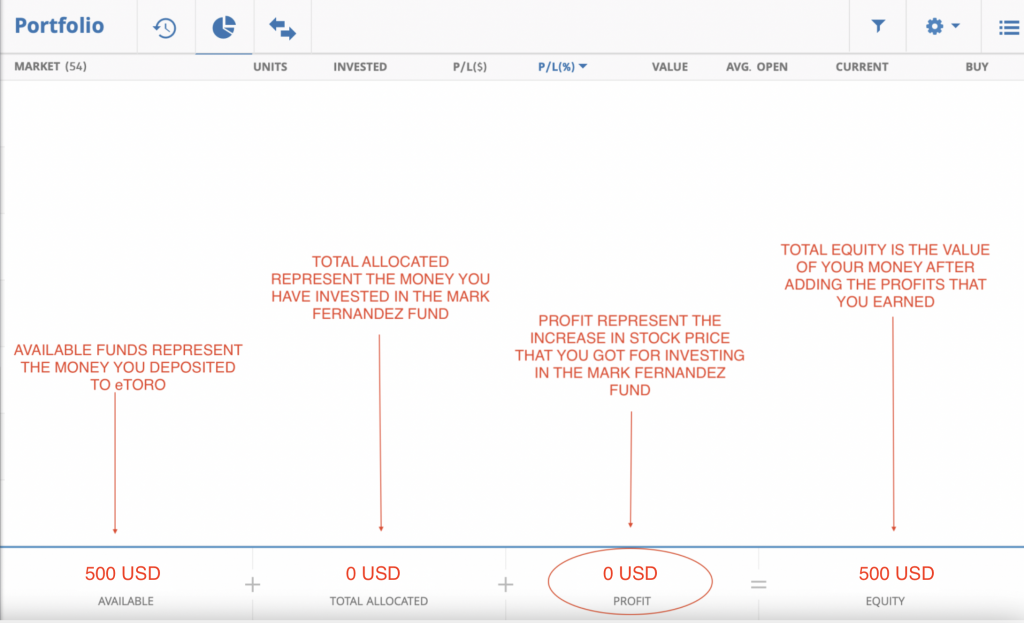 What are dividends?
Dividends are the regular (usually quarterly) payouts received by investors for investing in companies. They represent the share in the net income of the company that you invested in. You are not guaranteed to received dividends but the chance of getting them is higher when those companies have been paying dividends in the past and when net income of the company is high and stable. Typically, investors who have copied me in eToro for at least 3 months will expect to receive dividends.
How do you know know how much dividends you have received from the companies you invested in?
Watch this video below or go to mjtfernandez.com/dividends for a complete write up
Does the dividend you receive get counted in the percentage gain of the investment?
No, the dividends receive do not form part of the percentage gain of the investment. The percentage increase/decrease in eToro is only amount gained from price increase/decrease of the stock because dividends form part of capital. Thus, it is possible that if you have a negative percentage in eToro, you could still be making money because the price of the stock may have declined but you made money from the dividends received.
What is the assurance the MJTFernandez Copy Trading Investment will perform well?
Since this is a copy trading investment, you are copying Mark Fernandez's stocks. He currently holds a large amount stock investments in eToro from his personal funds. Therefore, he has his skin in the game. Any gains or losses that he gets from his investment is also your gain or loss. Also, no fund management fees are deducted unlike mutual funds. Therefore, fees are much cheaper for copy trading investments than mutual funds.
Who is eToro?
eToro is one of the largest leading stock brokers in the world. It works similarly as other stock brokers such as COL Financial, FirstMetroSec or BPI Trade. Founded in 2007 and based in the U.K., eToro has more than 17 million users in approximately 100 countries. Watch this quick video of eToro if you wish to know more about them: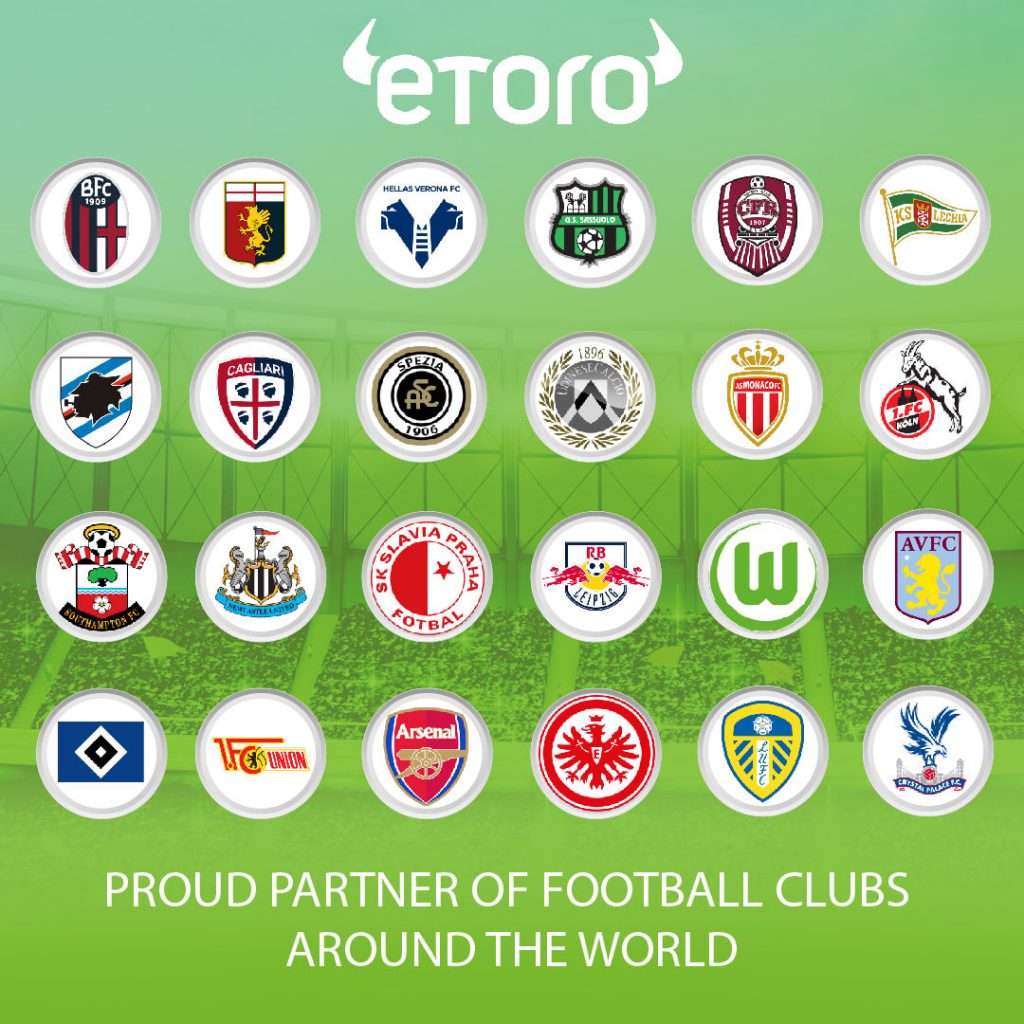 Is eToro a good stock broker? What if it goes bankrupt?
Yes, eToro has partnered with Lloyds of London for a one million insolvency insurance coverage that protects investors should eToro become bankrupt. This has been verified by business insider and nasdaq.
Who manages the MJTFernandez Copy Trading Investment?
The person you are going to copy trade is the personal funds of Mr. Mark Joseph T. Fernandez. He is a Certified Public Accountant and Accredited Financial Analyst. He has been trading in the stock market since 2010. He is also the founder of the FinancePH Group of Companies. He and his team of accountants and researchers help him research the stocks to insure that all the latest news and updates of the company are properly considered when making investing decisions. For more info about him visit this link.
What kind of investment does MJTFernandez invest in?
MJTFernandez invests mainly in global dividend stocks and some growth stocks – particularly stocks in the USA, Europe and some Asian companies.
MJTFernandez does not invest in risky assets such as crypto currency, commodity or forex. The investment is ideal for those who seek medium risk and growth. Target return is 2% to 10% return per quarter. Investors who are investing in risky assets can also find this investment useful as a way to diversify their portfolio. To know the updated list of the companies invested in please visit Mark's eToro profile.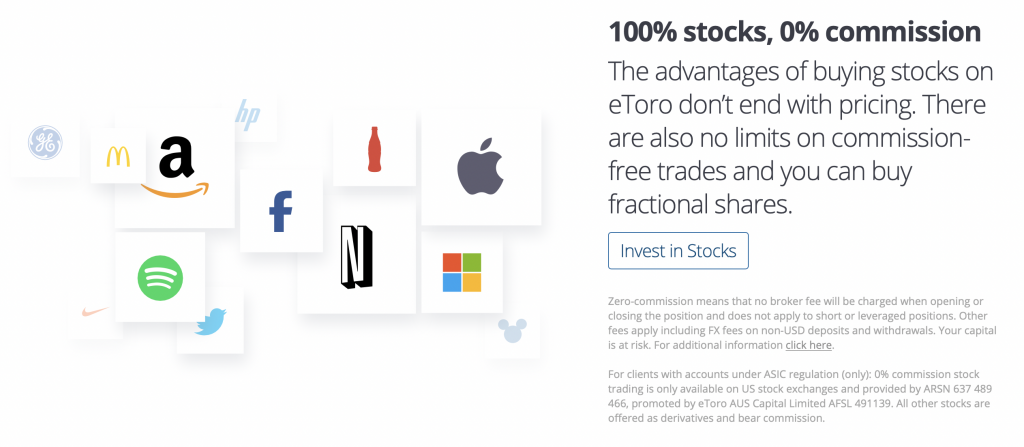 What is the criteria that Mark Fernandez uses in selecting the company stocks he buys?
1. Must have minimal debt
2. Must have growing yearly net income
3. Ideally must be paying regular dividends
4. Must be a properly managed company
*And more…
Who can copy MJTFernandez in eToro?
Anyone who has an eToro account in countries where eToro operates in such as the Philippines can copy MJTFernandez in eToro. You just need the following requirements to invest:
1. An active ATM or Credit Card
2. Valid Government IDs
3. $200 USD or around P10,000 to start investing
Where will the money I invest go?
The money you invest will go to eToro. Not a single cent or dollar will go to Mark Fernandez.
This is because you are merely copy trading the account of Mark Fernandez. This gives investors the security and safety of their money. Further, there are thousands of other investors in eToro that you can copy. You can copy multiple people and not just the Mark Fernandez. However, we appreciate that you copy the Mark Fernandez.
Is there a holding period?
None. There is no minimum holding period needed. However, we encourage you to invest for at least 2 to 3 years for maximum gains. As investing in the stock market is a long term investment, please do not expect immediate positive gains in the first three months.

How can I withdraw my investment?
After you stop copying, you simply have to click the WITHDRAW button in the lower left side of the website. In our experience withdrawals usually take around 3 to 7 banking days for eToro to send the money to the bank you used.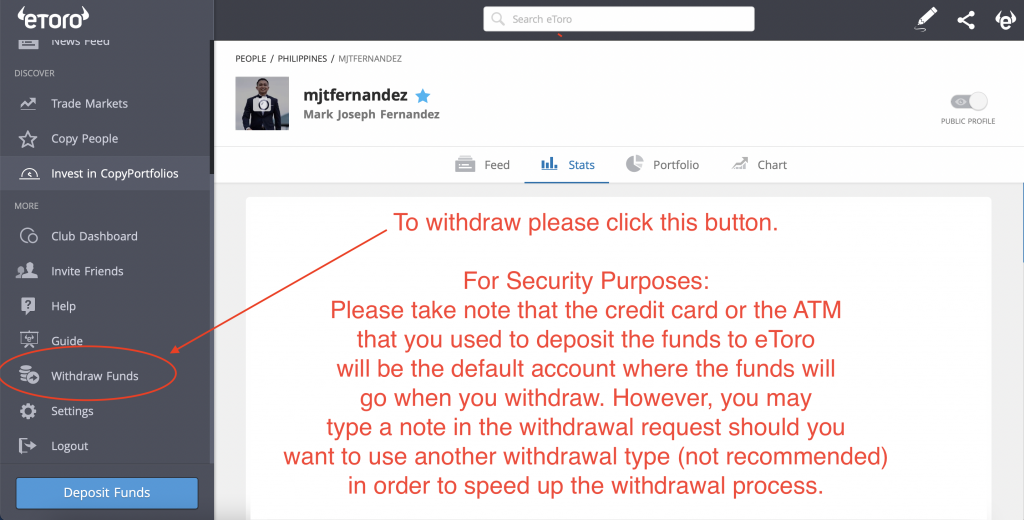 What are the fees involved?
There is a $5 withdrawal fee which becomes free if you have reached the minimum account balance required to have free withdrawals. There are no fund management fees whatsoever. Meaning, Mark Fernandez will not receive any compensation or money from the money of the copy investors. Further, eToro will not deduct any fund management fee from you as the copy investor. This means that whatever charges that apply to the Mark Fernandez will also be the similar charges that apply to the copy investor.
How does Mark Fernandez get compensated?
In order to entice popular investors like Mark Fernandez to set their profile to PUBLIC instead of PRIVATE, the eToro team gives a compensation to Mark Fernandez. The amount that eToro gives Mark Fernandez does not come from the copy traders and comes from the income earned by eToro as a stock broker (just like COL Financial or First Metro Sec). The advantage of eToro is that the stock broker deducts a very small fee (0.5%) for every SALE of the STOCK and not when you BUY the stock (zero percent). Meaning there is no fee for purchasing a stock or copying a person only when selling the stock.
What is the advantage of copy trading versus mutual funds?
The clear advantage of Copy Trading is that the copy investors do not get charged any fund management fee. Unlike mutual funds, a fund management fee of 2% is usually charged on the total gross assets of the person investing in the Mutual Fund. Because eToro does not charge these fees, this insures that you will get higher returns in copy trading than mutual funds. Further, copy traders are usually easy to contact. Just write a post or comment in the newsfeed of the copy investor.
Finally, in Copy Trading you can choose to copy only the future trades. In Mutual Funds when you invest in it you are not given the option to purchase only new stock purchases, you are required to purchase the stocks including the old ones which may already be expensive at the time you purchased those mutual funds but not with copy trading.
Should I invest one time big time or slowly in trickles?
The immediate answer is – you should invest in trickles. This means that you should invest regularly (for example once a month) to insure that when the stock price goes down or go up in the future, you are able to buy additional shares of stocks (by pressing "ADD FUNDS"). This removes the emotions in investing and instead, uses a mathematical dollar cost averaging strategy. This is especially useful when the market is very erratic or uncertain. However, when the prices of the stocks are low, then a large one time investment would be good for you.
Will Mark Fernandez be holding my money?
Definitely not. The funds you placed in eToro is deposited to eToro and not to Mark Fernandez. Mark Fernandez is a popular investor of eToro which you can copy trade. There are several other popular investors in eToro that you can also copy but hopefully you will copy Mark Fernandez as well.
How safe is this investment? What if eToro goes bankrupt?
eToro has placed a safeguard for investors. In the Philippines there is a PDIC which protects bank depositors should the bank they are investing in goes bankrupt. A similar insurance is also available for eToro investors. Each investor has an insurance amount of ONE MILLION AUD/EUR/USD (depending on your jurisdiction) that the investors can receive if eToro goes bankrupt or commits fraud. For more info on this please visit this link for the eToro Investment Insurance Policy.
How do we get in touch with Mark Fernandez?
Do you have questions that were not answered in this page? You can get in touch with the Mark Fernandez Team through our viber community at bit.ly/markfernandezcommunity for questions, comments and suggestions.

Is eToro a SCAM?
eToro has existed since 2007. A wikipedia article of eToro can be found here. You can do your own research and find reviews of eToro or you can also read the statement from eToro as to why it is not a scam.

WHAT TO DO NEXT?
Try copy MJTFernandez in eToro, you will surely not regret this decision! Follow the steps below on the video or read below:
1. Go to the eToro website www.etoro.com to register for an account. You may also download the mobile app if eToro in playstore and app store.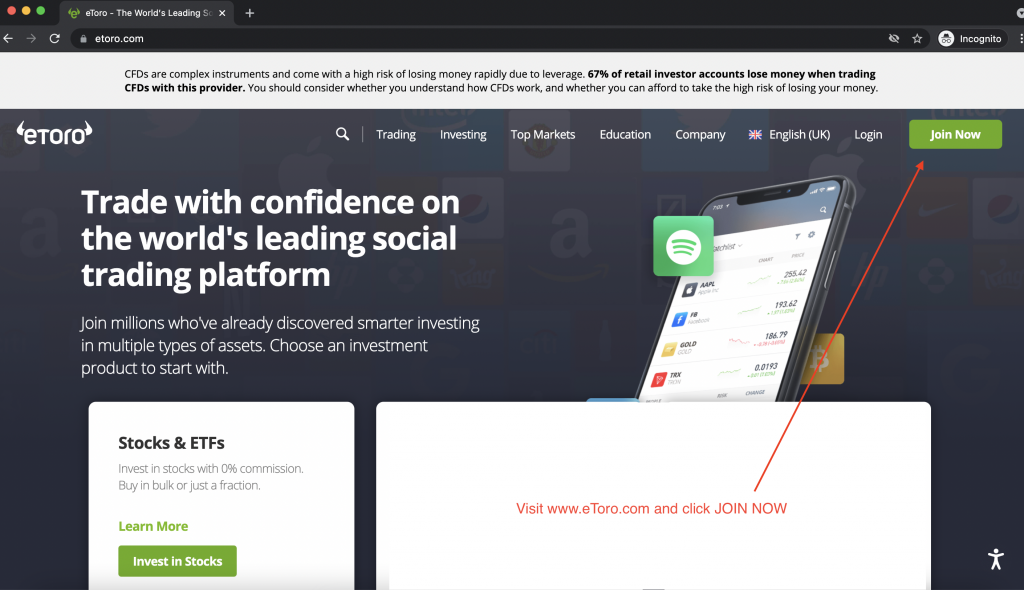 2. Complete your profile and documentary requirements such as ID (If you are having a hard time registering in eToro for a new account, watch this video)

3. Deposit an amount to your account via ATM debit card or credit card (suggested to use a debit card not a credit card)

*If your deposit is declined, it maybe because your card has not allowed overseas transactions. Please call your bank and allow overseas transactions.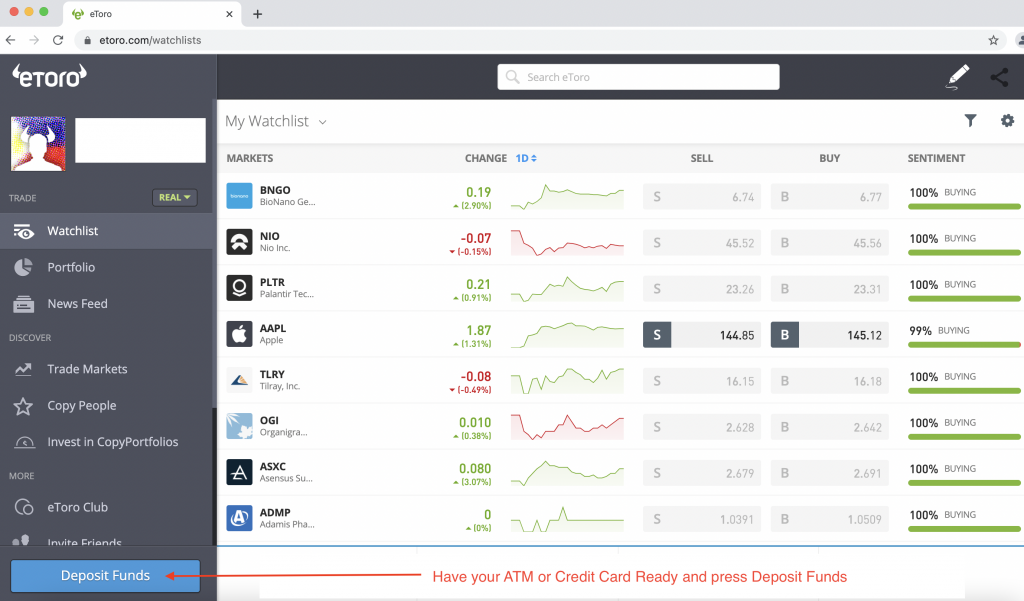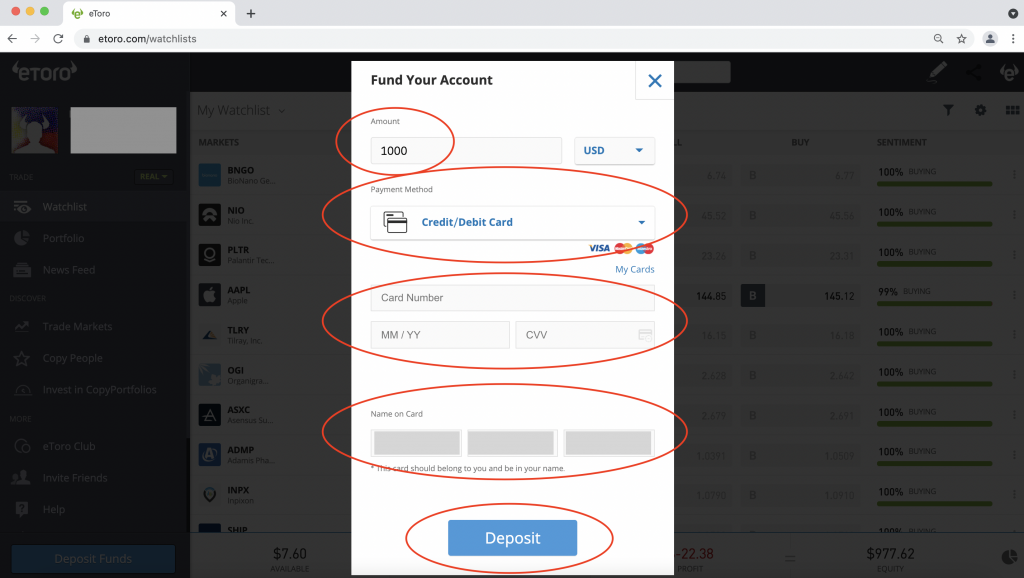 4. Search for "Mark Joseph Fernandez" or "mjtfernandez" in www.eToro.com

5. Click Copy Trade and input the desired amount to copy trade.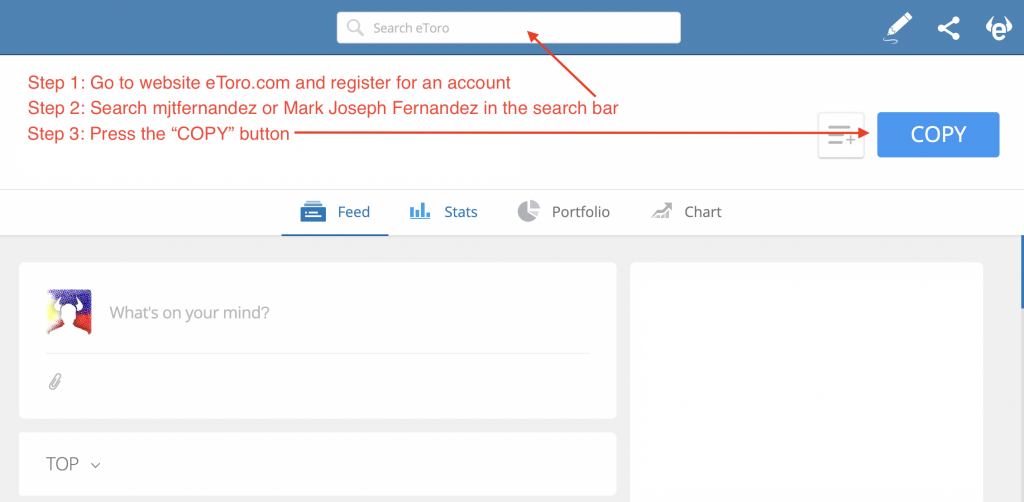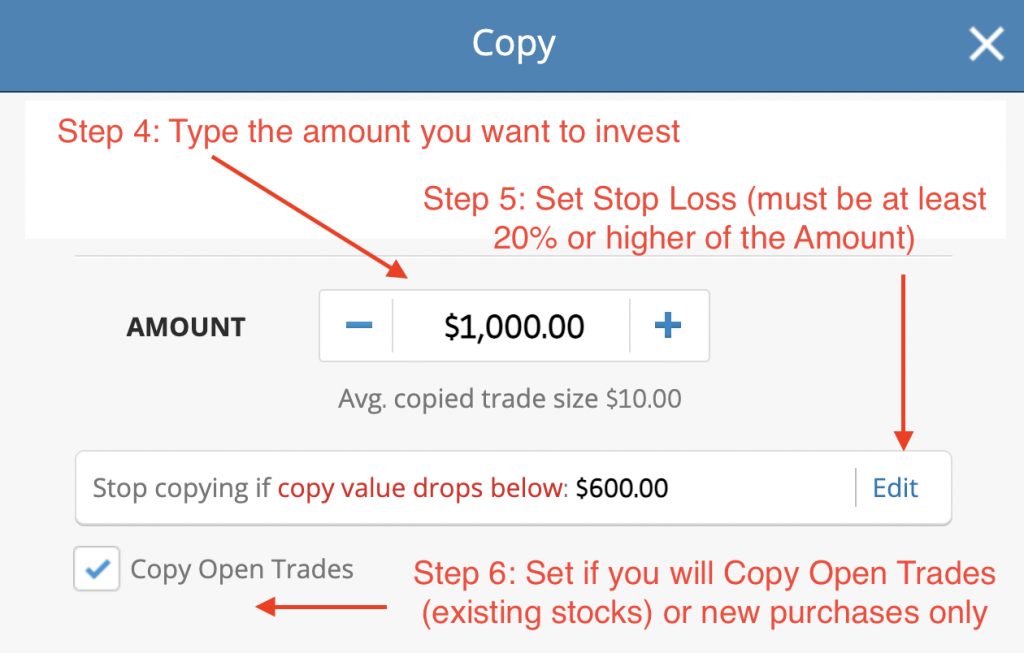 6. Wait for at least one full working day to fully copy all the stocks of the Mark Fernandez. This is because the different stock markets open at different time zones. Example the Asian Stock Markets opens in the morning (Monday to Friday) so the asian stocks will be copied/purchased in the morning. European Stock Exchanges opens in the afternoon and US Markets at night. If there are also holidays in the country where the stock are to be bought, you might not be able to copy/purchase the entire stocks of the person you are copying until the next working day.
7. Join our viber group to communicate with us and the other copy traders. You will also receive announcements through the viber group.
8. Add funds when you have extra funds. Simply click on "ADD FUNDS" button after searching mjtfernandez. Minimum $5 USD (if you do not copy open trades) or Minimum $200 if you copy open trades.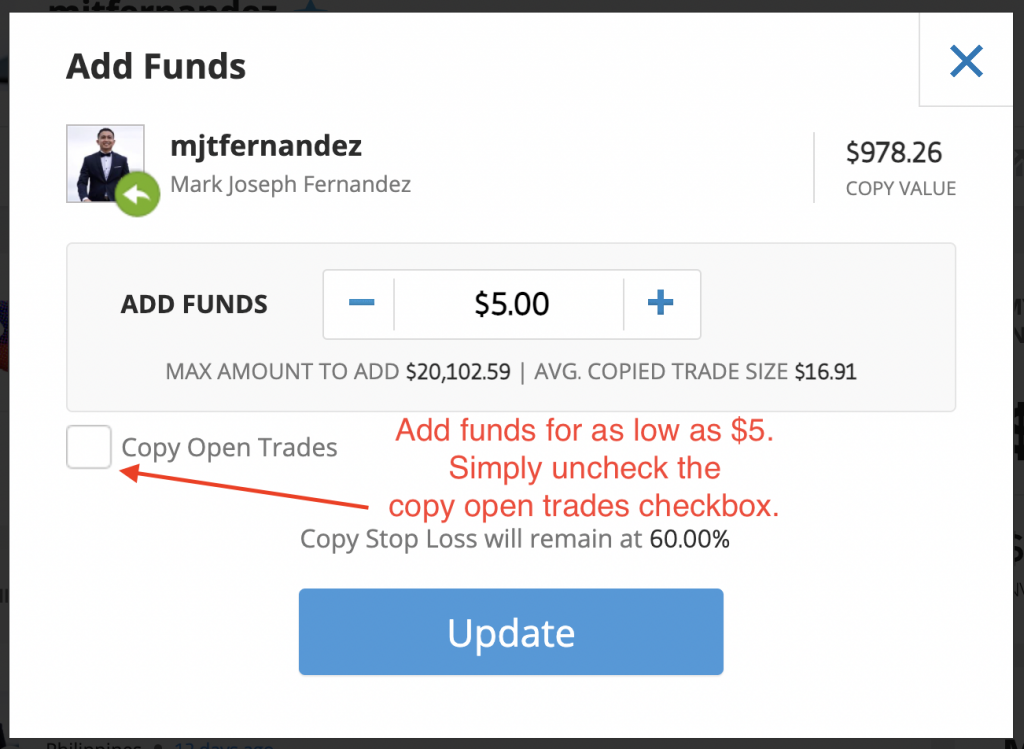 What is the minimum amount to copy MJTFernandez in eToro?
The minimum amount is $200 USD.
From time to time, we usually deposit more funds in our Mark Fernandez main eToro account. Since you are copy trading us, any deposits or withdrawals that we (the person you are copying) make will also prompt you to do the same. Example, if we deposit additional 5% (five percent) in our account, you will receive a prompt to also deposit additional 5%. However, you do not need to necessarily deposit. If you do this you will just not be able to purchase additional stocks that the Mark Fernandez invests in. If you add more funds and Mark Fernandez is not adding more funds, the additional funds you are adding will be used to either copy open trades (existing stocks) or copy new trades (new purchases) depending if you click COPY OPEN TRADES upon copying.
PRO TIPS: After I deposited funds in eToro and then I press the "COPY" button, should I copy "OPEN TRADES" or not?
Your answer to this question will depend on your assumption of the stock market. If you think the stock market will go up in the coming months, "COPY OPEN TRADES". If you think the stock market is going down, do not copy open trades. However, if you do not know whether it will go up or down, the best answer usually is to "COPY OPEN TRADES" if you are copying with the recommended minimum amount of the fund or else if it is just a small amount for now, do not copy open trades.
SEVERAL OF OUR INVESTORS HAVE EARNED REGULAR QUARTERLY CASH DIVIDENDS AND STOCK PRICE GROWTH, BE PART OF THE MARK FERNANDEZ COPY TRADING COMMUNITY! JOIN OUR VIBER GROUP.

READ: HOW TO SPEED UP WITHDRAWAL PROCESS IN ETORO
BACK TO THE MAIN PAGE

Do you still have questions? Schedule a zoom meeting with us. Send an email to the Mark Fernandez Investment Team at invest@mjtfernandez.com to schedule a call out or a zoom meeting with us.